The Equality Network Election Statement 2017 was released at Parliament on 1st August.  Find out how to take action and share our message.

This election statement outlines three key ideas for a fairer country, ideas that should be enacted immediately.
Income for all that provides the necessities of life through a Living Wage and fairer income support;
A Government-funded house-building programme to help address the housing crisis and provide everyone with healthy, affordable homes with long-term tenure; and
A tax on very high levels of wealth and higher top tax rates on the highest incomes to ensure that everyone contributes their fair share and enables our families and whānau to thrive.
For more information and our other policies, see the full election statement here.
Here is a backgrounder to the statement.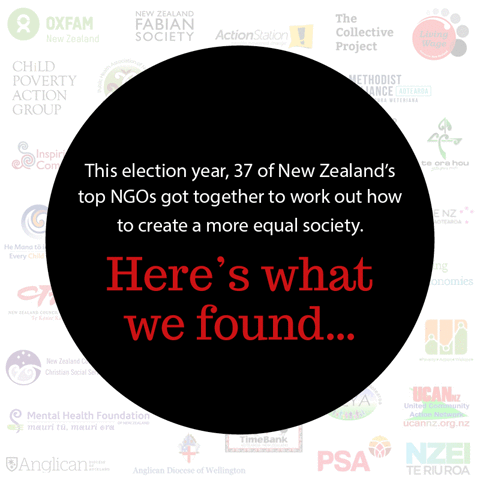 In New Zealand, income gaps have widened faster in the last 30 years than almost anywhere else in the developed world. That makes the country more divided and less healthy, and strikes at the idea of equal opportunities or the 'fair go' for everyone. And the public knows it: the polling depicted above shows inequality is the number one issue for New Zealanders.
According to May  2017 research from Roy Morgan, poverty and the gap between rich and poor is the single biggest issue of concern to New Zealander's at present. New in-depth research exploring the concerns of New Zealanders both in New Zealand and globally found New Zealanders, like Australians, are concerned about war and terrorism on the global front. But at home in the run-up to this year's election it's all about the economy especially housing affordability, housing shortages, cost of living, inflation, unemployment and homelessness. (Roy Morgan New Zealand, 3 July 2017)
The Equality Network brings together the groups who are responding to this concern by campaigning to reduce income inequality and create greater well-being and life chances for all. Our profound belief is that in a more equal society, everyone is better off.
This site has everything you need to know about our vision, our members' successes to date, and the actions our members are taking. We'd love you to join us and help make New Zealand a fair and healthier place for everyone.